The "Members' Area" is a premium personal training program for driven players who want more than just general training tips and advice. This is no hype, serious instruction that focuses on creating a basketball training program designed specifically for you to reach your goals and full potential.
Watch the site tour below for more details and to see if the "Members' Area" training program is right for you: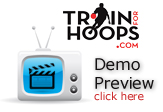 Here are some benefits that our current members are already receiving:
Personal Training. You will have a proven and tested basketball training program designed specifically for you: your goals, your experience level, and your work ethic. As your game develops and you reach your short term goals, your training program will adjust and become more challenging. Our focus is to help you reach your full potential as quickly as possible.
Athletic Training. We are going to provide you with step-by-step training to develop your athletic ability to perform better on the court. We are big believers in building a solid athletic base: strength, conditioning, explosiveness, flexibility, and injury prevention. Your training program will be designed specifically for you: your strengths, weaknesses, experience, and goals. Our focus is to have your body performing at its peak when you need it most.
In-Depth Lessons. In these lessons Brian will breakdown the mental and tactical aspects of performing in real games. The best player on the court usually is not the player with the most raw talent; it's the player that can use all of their skills and knowledge of the game to outplay their competition. Things like using screens and cuts to score easy buckets, how to set-up your teammates for easy baskets when a play doesn't work, and how to guard quicker and stronger players. You'll learn and master the nuances of the game through these lessons to develop into a complete player: skills, athleticism, and understanding how to play the game effectively.
Personal Support. This is the "internet age". Because time and distance aren't an issue, you have full access to Brian, our Performance Director, and his team who are here to guide you and answer all of your basketball training questions.
Membership to the "Members' Area" is $35.00/month (less than what most "trainers" charge for a one hour session) but we are currently offering a special rate to our new members:
Charter Membership Rate: $25.00 per month
You Save $10 – 29% off our standard rate!

Standard Membership Rate: $35.00 per month
To Join Click Here!